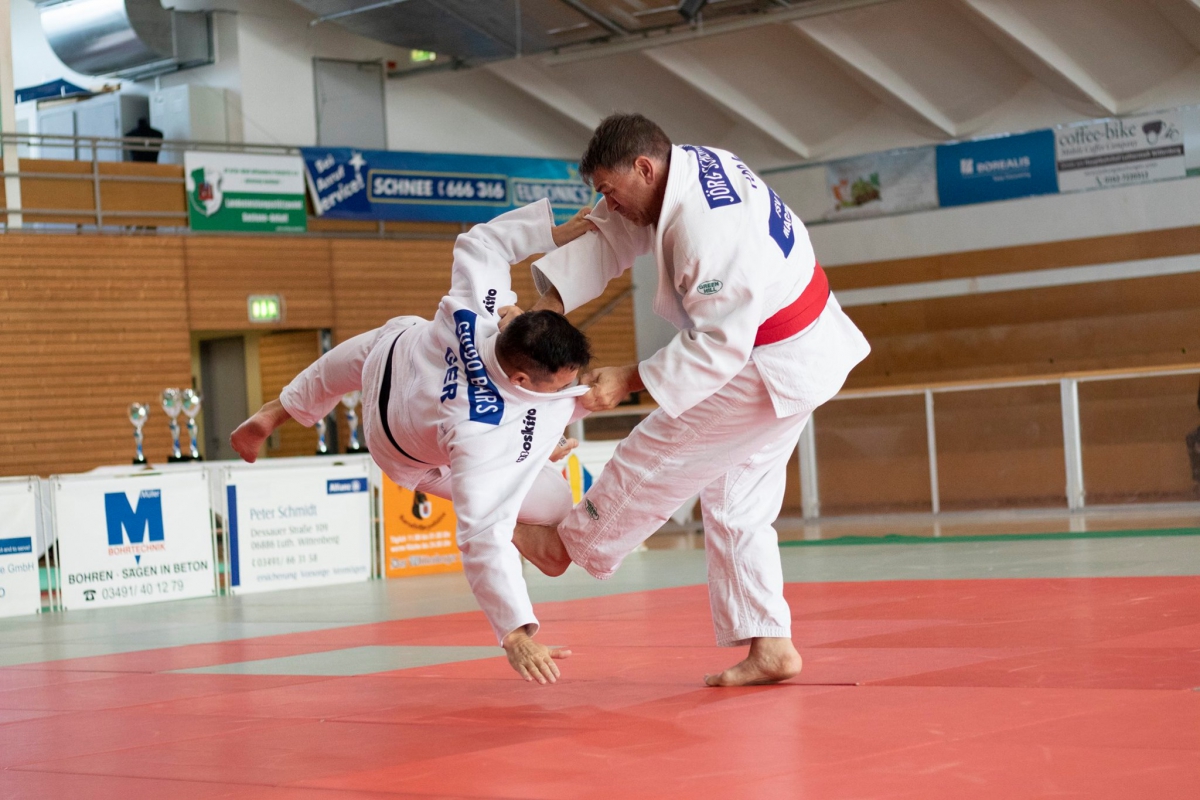 "Corona can't do any judo"
At october, 24th the judokas of SV Grün-Weiß Wittenberg-Piesteritz celebrated their 70th anniversary. On this particular day the 18th Andreas-Boenisch-Memorialtournament took place. Originally planned as a big international judo event the organisers has to submit themselves to the regulations during the corona pandemic. The proposed starts of judokas from France, Russia, Spain, Austria, the Ukraine, the Netherlands, Italy,
Scotland, England, Irland or India has to be
cancelled. Only Daniel Dyhrberg from Denmark was abled to enter Germany without any quarantine restrictions (but with a negative CoViD-19 test result), so he kept up the "international" status of the tournament. Where we are talking: The hosts themselves are standing for "international" too. Not only the sports manager of SV Grün-Weiß Wittenberg and head of organsiation Olaf Rodewald reached the winner's podium of a world championship more than once. Co-organiser Wolfgang Löffler is national coach of the "over 50" and gained a gold medal at the world championships in Abu Dhabi! But this time it is a mainly german tournament: 44 judokas has enrolled. The event takes place under a strict hygiene concept. Everyone has to undergo a health check; bodytemperatures were taken, health certificates were completed and postal codes were checked with the list of risk areas emitted by the Robert-Koch-Institut. The sportsmen are only allowed to be located in assigned areas. The tatami mat floor is getting desinfected multiple times and outside of the tatami everybody has to wear a nose-and-mouth covering And the hygiene concept worked out. Even 14 days after the tournament there were no notifications about any infections. Quote of one of the starters: "Corona can't do any judo!" With a few minutes delay it is finally happening. The organiser's work and the athlete's anticipation will be rewarded. At half past ten the first fights start - also watched by Wittenbergs mayor Jochen Kirchner. "We are finally back at the tatami mat", says judge Holger Lehmann. The judokas fight in age groups from under 30 years until over 60 years and weights between 48kg (ladies) and more than 100kg (men). All fights were fair and nobody was getting hurt. After the regular fights took place the judokas used every opportunity and arranged a lot of friendship fights in addition. In the evening a special anniversary were celebrated: 70 years of judo in Piesteritz! On this occasion a gala was held by the SV Grün-Weiß Wittenberg and Olaf Rodewald received the deed of honour by the mayor of the City of Wittenberg. The judokas of the SV Grün-Weiß Wittenberg honoured some merited companions too, such as Günter Schnürch from Gotha, Georg Matuscek from Berlin and Karl-Heinz Klapproth (who was Olaf Rodewald's first trainer and examiner) with a medal of honour. The SV Grün-Weiß Wittenberg wants to thank everyone who helped to make these events possible.
Results:
| | | | | | | | | | | |
| --- | --- | --- | --- | --- | --- | --- | --- | --- | --- | --- |
| Streit | Michelle | -48 | 1 | U30f | | Köcher | Heiko | -60 | 1 | +45m |
| Gottwald | Robin | -57 | 1 | U30f | | Traus | Michael | -60 | 2 | +45m |
| Rottig | Susan | -63 | 1 | U30f | | Adler | Luca | -66 | 1 | U30m |
| Liebing | Jacqueline | -63 | 1 | +45f | | Schulz | Mirko | -66 | 1 | +30m |
| Seemann | Anja | -70 | 1 | +30f | | Schwalbe | Torsten | -66 | 1 | +45m |
| Drinhaus | Julia | -78 | 1 | +30f | | Rennhack | Jörg | -66 | 2 | +45m |
| Göttnauer | Alice | -78 | 1 | Ü45f | | Nagel | Dietmar | -66 | 1 | +60m |
| | | | | | | | | | | |
| Traus | Jaques | -73 | 1 | U30m | | Engelbrecht | Mattis | -81 | 1 | U30m |
| Mandel | Thomas | -73 | 1 | +45m | | Katerbau | Robin | -81 | 2 | U30m |
| Löffler | Wolfgang | -73 | 1 | +60m | | Stoch | Pascal | -81 | 2 | U30m |
| | | | | | | Semmler | Toni | -81 | 1 | +30m |
| Tesenwitz | Paul | -90 | 1 | U30m | | Rodewald | Olaf | -81 | 1 | +45m |
| Zwank | Niklas | -90 | 2 | U30m | | Blankenberg | Uwe | -81 | 2 | +45m |
| Teschke | Maik | -90 | 1 | +30m | | Zöllner | Manfred | -81 | 1 | +60m |
| Chouseinoglou | Niazi | -90 | 2 | +30m | | | | | | |
| Bars | Guido | -90 | 1 | +45m | | Dyhrberg | Daniel | -100 | 1 | +30m |
| | | | | | | Frevert | Samuel | -100 | 2 | +30m |
| Hesse | Sebastian | 100 | 1 | +30m | | Schenke | Jörg | -100 | 1 | +45m |
| Frischmann | Jörg | 100 | 1 | +30m | | Bars | Guido | -100 | 2 | +45m |
| Kuß | Stefan | 100 | 3 | +30m | | Loch | Klaus | -100 | 1 | +60m |
| Gesell | Jürgen | 100 | 1 | +45m | | | | | | |
| März | Jogi | 100 | 2 | +45m | | | | | | |
| Gröber | Dirk | 100 | 3 | +45m | | | | | | |
| Petzold | Andreas | 100 | 3 | +45m | | | | | | |
| Grofer | Georg | 100 | 5 | +45m | | | | | | |
| Jaspar | Holger | 100 | 1 | +60m | | | | | | |
https://www.facebook.com/SvGrunWeissWittenbergJudo
Report: Janet Tietke
Pictures: Janet Tietke / Sascha Graf